Home health care costs vary greatly based on the assistance level your senior loved one requires. According to Genworth's Cost of Care Survey, a senior's average home care costs in 2020 totaled $4,481 per month in the United States. This amount may be influenced by your loved one's location, and the level of training their home care aide has received. This cost reached a median of $4,576 per month for seniors who require home health care, which includes more comprehensive medical care from a trained caregiver.
Many different models are used by individuals and agencies to determine the cost of daily home care. The average home care cost per hour can be around $23. And monthly or annual contracts may allow for lower rates. There is a minimum hour requirement for most home care agencies to account for costs such as transportation and personnel. Caregivers with advanced expertise are usually more expensive to cover.
If you're considering Home Care Assistance, weigh up the costs before you make a choice. The costs vary from agency to agency, and it depends on the particular service you'd like. For example, you might choose to have a Home Care professional to help around the house or prefer to have a professional provide companionship. But, of course, this is a preference. So, mark down which services you need and what kind of support you require before starting your search.
Annual average rate of long-term health care services in the United States as of 2020, by type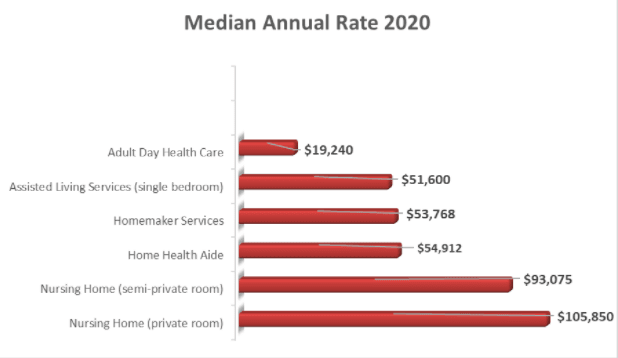 How much does 24/7 home care cost?
It's critical for each family to clarify home care expectations when considering the cost of in-home care for aging loved ones. Many seniors and their families prefer 24/7 home care where a caregiver will be present throughout the day to provide daily assistance. However, according to Genworth data, these individualized care alternatives come with significantly varied cost assumptions for families.
A live-in caregiver's daily duties and expectations are frequently outlined in a caregiver contract with the senior's family. Families will pay a negotiated hourly fee even though live-in caregivers receive room and board. In-home caregivers earn an average of $24 an hour.
Non-sleeping visits can cost $17,280 per month on average, implying that a caregiver is awake and continuously overseeing a senior. This covers 720 hours of round-the-clock care from several assistants.
Sleeping visits, in which a bell or alert awakens a caregiver in the event of an emergency, can cost between $120-$200 every 12-hour shift or $12,780 per month.